Passion and Experience
 Meet Our Team
Kuranda Veterinary Surgery
Mareeba Veterinary Surgery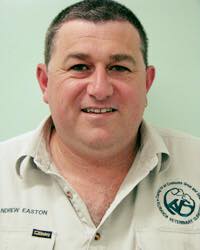 Dr Andrew Easton
BVSc MACVSc (Veterinary Dentistry) CMAVA – Veterinarian and Practice Owner
Andrew graduated from the University of Queensland in 1992. He has practiced as far a field as the UK as well as locuming around Australia before settling in Kuranda in 1995.
Since then Andrew has gained his membership to the Australian College of Veterinary Scientists in Dentistry (Small animal and Equine) in 2001 and has been involved in the examination of other veterinarians in the field of Equine Dentistry for the College. Andrew has also completed postgraduate training in avian medicine.
Andrew has been heavily involved with the Australian Veterinary Association on a local, state and national level and received a Distinguished Service award in 2007 from the Qld branch and was awarded a Fellowship of the Australian Veterinary Association in 2014.
Andrews's main interests are anything dental from small animal general dentistry, endodontics (root canals etc) to orthodontics. Andrew is also a highly experienced in equine veterinary dentistry. Andrew is also interested in all aspects of equine medicine as well as anything exotic from birds to reptiles.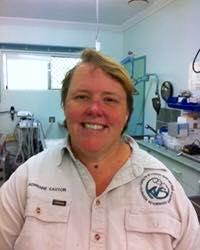 Dr Adrienne Easton
BVSc IVAS (Certified) CMAVA – Veterinarian and Practice Owner
Adrienne grew up in Cairns before graduating from the University of Queensland in 1992.
After practicing in Adelaide for 2 years she moved back to North Queensalnd where she has been practicing mostly in small animal practice. In 2008 Adrienne began working at Kuranda Veterinary Surgery full time.
Adrienne's interests are in Feline and Canine Medicine and she has a special interest in Acupuncture having graduated in 2001 as a Certified Veterinary Acupuncturist from IVAS(International Veterinary Acupuncture Society).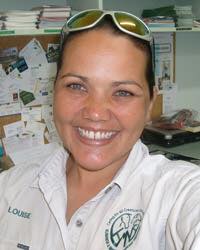 Louise Kapteyn
Veterinary Nurse Cert IV
I have grown up in Kuranda and have been working for the Kuranda Vet surgery since April 1995. Every year I have the wonderful opportunity to go away to conferences, workshops and seminars that give me the chance to learn so many new things.
I love being able to go to work each morning with such an enthusiastic and inspiring team. I enjoy every aspect of my job but get very excited over animal nutrition, dentistry and wound management, large and small animals.
Tracey Dick
Veterinary Nurse
Tracey has been working with the Kuranda and Mareeba Veterinary Services for over 8 years now and still finds a different challenge each week. There is always something new to witness in the animal kingdom.
Tracey likes to help our clients make informed decisions regarding their animals health and wellbeing and enjoys being part of the great veterinary team here at Mareeba and Kuranda.
Tracey enjoys all creatures great and small and has a special place in her life for cats and horses.
Annette Iacovella
Veterinary Nurse
Renee Biggs
Veterinary Nurse Cert IV, AVN, RVN
Renee first began working for KMVS in 2012 before having her son & moving to NSW. She brings extensive experience to the team including Equine nursing, Small animal nursing & Exotic nursing. You can see her beautiful dogs Jinx (in the picture) & Maverick (the one eyed pirate) when visiting our Mareeba clinic.
She is passionate about continued education, surgical nursing, pathology & all things equine. In her spare time Renee spends it with her many animals including horses, dogs, cat, birds & also her son & husband.
Emma Guymer
Veterinary Nurse
Emma has only been with us since 2020 & is new to the Veterinary Industry. She comes from an animal background with a Bachelor of Science majoring in marine biology & zoology, & with 6 years' experience as a zookeeper. Emma is currently studying her Certificate IV in vet nursing & is excited to learn all the things the industry has to offer!
Kuranda Veterinary Surgery
Mon - Fri: 8:30am - 6pm
Sat: 8:30am - 12:00pm
Mareeba Veterinary Surgery
Mon - Fri: 8:30am - 5pm
Sat: Closed
(Service available at Kuranda location)
We're proud to provide personalised, independent vet services and advice to:
Biboohra, Cairns, Daintree, Dimbulah, Gordonvale, Kuranda, Mareeba, Mount Molloy, Mossman, Mutchilba, Port Douglas, Redlynch,  Smithfield, Speewah, and Walkamin.