Small and Large Animal
 Veterinary Services
Kuranda Veterinary Surgery
Mareeba Veterinary Surgery
Acupuncture and Laser Therapy
Acupuncture is available to all animals by either needle or laser and can be quite complementing to some medical and or surgical treatments. It is performed by Dr Adrienne at both Kuranda and Mareeba clinics. We can use the laser and adjunct treatment for both muscle and tendon issues.
Canine Reproduction
We can help optimise your breeding program by helping with optimal timing of mating, fresh or chilled artificial insemination. Along with optimal timing for caesarean sections if required.
Progesterone testing is available via our in house machines, which means we usually have your result within one hour. This allows us to map your bitch's cycle and accurately guide you for the optimum time of breeding and caesarean sections.
We offer vaginal inseminations – this involves the collection of the semen from the donor dog, assessment of its quality and insemination into the bitch. We are also able accept chilled semen collected elsewhere for insemination via this method.
Both planned and emergency caesarean sections can be handled with our experience surgical teams at both Kuranda and Mareeba clinics.
Consultations
Our veterinarians consult both at the surgery and in your home for all small animals such as cats, dogs, birds, guinea pigs, fish and most wildlife. Small ruminants (sheep and goats), alpacas and horses can be examined at either the surgery (yard and stables are available) or at your property.
Cattle can be examined on your truck at the surgery if restrained, or at your property, they are required to be in yards with a crush or race facility.
Wildlife consultations can be performed by the veterinarians and the patients the referred to experienced wildlife carers for rehabilitation as required.
Digital X-rays
Digital X-rays are utilized on a daily basis particularly in our orthopaedic work-ups and for soft tissue diagnostics. Digital X-rays are available immediately in-house providing same day results. We have portable digital x-ray unit available for equine imaging.
Digital dental x-rays are also available.
Our facilities are registered and are fully compliant with Radiation Safety Standards.
Endoscopy
Our endoscopy unit is invaluable in the diagnosis of conditions of the upper airways, pharynx and oesophagus of horses. It can also be used for respiratory and gastric conditions in dogs and cats too. The unit is portable if facilities at the property are adequate.
We also have a 3-meter Gastroscope available at the Kuranda Surgery for performing gastroscopes on horses to assess amongst other issues for gastric ulcers.
Equine Reproduction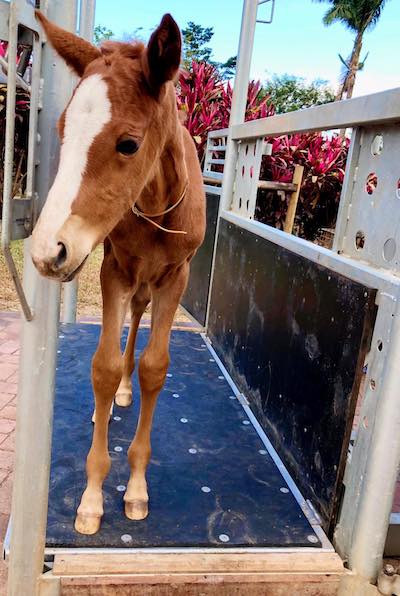 We offer artificial insemination for horses with chilled semen and frozen semen.
The 2019 breeding season saw us complete our first round of Equine Embryo Transfer. This service is now available.
For all equine breeding enquiries please call Kuranda on (07) 4093 7283 or send us an email.
A brief overview of the AI procedure:
Your mare should be scanned on her first day in season or, if this cannot be determined, at any stage of her cycle. A thorough breeding soundness assessment is conducted to examine the ovaries, uterus, cervix and vulva. This is important to detect any potential breeding problems and is performed at the first scan.
The mare will be regularly scanned to determine the size of the follicles on her ovaries, which is necessary to establish optimal time for breeding.
For chilled AI, we will liaise with the stallion owner and order the semen when it is determined to be needed. For chilled semen, we aim to inseminate the mare 12-24 hours prior to ovulation. Frozen semen does not survive as long as chilled semen following insemination, therefore frequent scanning is required to ensure insemination occurs at the time of ovulation. Frozen semen is stored at Kuranda ahead of time.
Following breeding, the mare is usually given treatments to maximise her chance of conceiving. Post-breeding scans are also performed. Most mares return home within one to two days after breeding.
A pregnancy scan is performed approximately 14 days after ovulation has occurred.
Pregnancy scans – these can be performed at the clinic or at your property. We routinely perform pregnancy scans for studs, along with pre mating scans to assess the stage of your mares cycle and timing for breeding.
Foals – It is important to have a post foaling check performed on your mare and foal. To check the foal is healthy and has received adequate amounts of colostrum and that your mare is fine after the birthing process.
Our vets are experienced in performing all your breeding needs from pre conception right through to post foaling checks and general foal health.
Equine Dentistry
Our fully trained veterinarians in conjunction with Dr Andrews advanced dentistry skills and knowledge can provide all your equine dentistry needs. Equine dentistry however is much more than just sharp points, and requires a thorough knowledge of anatomy, development and pathology, which only your veterinarian can provide.
Equine dentistry encompasses all aspects of the evaluation, diagnosis, treatment and prevention of any disorders that affect the teeth, oral cavity, mandible, maxilla, and the adjacent structures. We utilise both motorised and hand-powered tools to provide maintenance and preventative dental care to horses of all ages.
Dr Andrew offers advanced equine dentistry treatments and procedures and often accepts referrals from all over North Queensland. 
Equine/Large Animal Surgery
Routine horse surgeries such as castrations or emergency surgeries such as eye injuries and Stitch ups can be provided on property or at the surgery.
We have a full surgical suite at Kuranda for procedures that require horses to have a general anaesthetic for more complex procedures such as cryptorchids, hernia repairs or joint flushes for some examples. We also have a fully lined rubber induction room to minimise the risk of injuries during the induction and recovery of general anaesthesia – therefore many owners opt to have their horses surgery performed at the clinic even for procedures such as castrations.
Large animal surgeries such as cow caesarians are routinely provided on farm in good facilities. Small ruminants and alpacas can be operated on at the surgery or on farm if preferred.
Freeze Branding/DNA Certification
Our service for freeze branding if fully mobile so is usually provided on property or at the surgery. All patients are sedated prior to shaving and branding.
Horses requiring freeze brands as part of their identification registration can continue on to have their DNA and identification certification completed once the brand is clear to read at approximately 6 weeks post-branding.
Laboratory Work
Our in-house laboratory available to our veterinarians is extensive and utilises the world's most complete in-house veterinary laboratory delivering powerful and immediate information on blood chemistries, endocrinology, haematology, electrolytes, blood gases, coagulation and urine.
Preparation and courier to government or private veterinary laboratories are also available.
Heartworm, Parvovirus and Felv/Fiv tests and more can be run immediately at the time of consultation.
Medical Care
Our facility provides comfortable, clean, spacious accommodation for in-patients and day patients, with diagnosis, personal care, focused medical treatment and regular monitoring being the core of our protocols.
Microchipping
Microchipping for dogs and cats involves the insertion of a needle under the skin between the shoulder blades. A sterile microchip is deposited there and it remains in place for the life of the animal.
As a direct result of people having their pet's microchipped, we have been able to return many lost pets to their owners and if found injured can help to commence treatment straight away.
Registration is for the life of the animal. All councils and vets should have microchip reader technology. Microchipping is a low cost invaluable asset to pet care. Book for your animal's microchip today.
Pet Supplies
Flea and Heartworm prevention for Cats and Dogs
Tick and worm prevention for all animals
Pet food including Hill's Prescription Diets and Royal Canin.
Shampoos & conditioners including flea rinses & medicated washes
Dental products including toothbrushes, toothpaste, dental gels, dental diets & dental treats
Collars, leads, halti's & car harnesses
Nail clippers
Dietary supplements
Large animal vaccines
Wombaroo products
A range of vetafarm food and products for birds
Pet insurance information and advice
And other over-the-counter products.
Our friendly staff are more than happy to organise a special request order for any items not currently in stock. Just ask!
Small Animal Dentistry
"Healthy Teeth-Healthy Body." This observation is true in every sense of the phrase and is supported by scientific evidence. Owners are becoming very aware of the need to monitor the health of their animal's teeth and mouth, and expect a dental examination at the time of consultation.
Any problems should be addressed immediately.
We provide comfortable and efficient resolution, utilizing our current techniques with anaesthesia and analgesia for all mouth and teeth issues
We can accommodate any dental problem such as all orthodontics, dental extractions, all surgical dental procedures on all animals, dental prophy's (ultra sonic scale and polish) and general dental hygiene, Root canals, vital pulpotomy's, tooth restoration and much, much more.
The advantage being that Dr Andrew has his memberships in veterinary dentistry.
Surgery
Kuranda and Mareeba Vet Surgeries have a well-equipped theatre for small animal surgeries. These range from routine speys, castrations and wound repairs to laparotomies, as well as more complicated procedures such as thoracotomies and orthopaedic work including fracture repairs and cruciate surgeries.
We follow strict antiseptic and sterile procedure protocols. Patient's vital signs are monitored constantly via respiratory, pulse oximetry and cardiac monitors. Surgical instruments are cleaned and sterilized as per standardized protocols utilising our autoclave. Our equipment is regularly checked and maintained by qualified technicians.
Pre-anaesthetic blood tests are available.
Ultrasound
We use ultrasonography as an imaging modality for many reasons. These range from pregnancy diagnosis in most species, including horses and dogs.
Also ultrasonography can provide a useful adjunct to diagnostics involving the thorax, abdomen and reproductive and urinary tracts, as well as tendon scans and is used on a daily basis.
Kuranda Veterinary Surgery
Mon - Fri: 8:30am - 6pm
Sat: 8:30am - 12:00pm
Mareeba Veterinary Surgery
Mon - Fri: 8:30am - 5pm
Sat: Closed
(Service available at Kuranda location)
We're proud to provide personalised, independent vet services and advice to:
Biboohra, Cairns, Daintree, Dimbulah, Gordonvale, Kuranda, Mareeba, Mount Molloy, Mossman, Mutchilba, Port Douglas, Redlynch,  Smithfield, Speewah, and Walkamin.